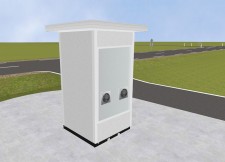 ATLANTA, May 5, 2020 (Newswire.com) - Panel Built, Inc. has long been a provider of prefabricated booths, working in the modular construction industry for 25 years. Generally, Panel Built's booths act as a tool to help secure facilities, campuses, and military bases. However, Panel Built has adapted its security booth design to help combat a different foe, the pandemic-causing COVID-19.
Panel Built's new line of booths, Swab Booths or Virus Testing Booths, utilize a design very similar to their standard booth with a couple of features to create a more comfortable, more convenient, and more safe environment for testing potential COVID-19 patients. The new booths make use of a specialized, full window which measures six feet in length and is formed from polycarbonate. 10″ diameter glove ports are installed attached to 18″ glovebox sleeves. The sleeves are made from neoprene and are accordion in style. At the end of the sleeve are nitrile gloves. The nitrile gloves may be easily changed out without having to change the accordion sleeves themselves, and the sleeves can accommodate different glove sizes.
The rest of the booth maintains Panel Built's traditional security booth design. The building is formed from 3-inches-thick, steel-skinned wall panels with a polystyrene core. The booths come pre-wired with a full electrical package, which includes a ceiling-mounted LED light fixture, a duplex receptacle, and a wall switch. The booths are available with a wall HVAC to ensure the tester stays comfortable within the booth at all times. The swab testing booths are delivered to the testing site pre-assembled and include a forkliftable steel base for quick and easy off-loading.
Panel Built's swab testing booths are designed for outdoor use with a 3-inch thick aluminum roof; however, they can be utilized in both interior and exterior environments. The standard swab booth model is a one-person, 4 ft x 4 ft x 8 ft design, but custom sizes and layouts can be assembled based upon customers' needs. Having the glove ports installed into the full-length windows allows for a clear line of sight for the medical professional (MP) to administer the nasal swab test to patients of all types. The 4 ft by 4 ft footprint allows enough room for a seat or stool if it is more comfortable for the MP inside. Overall, the swab booth design primarily aims to help protect the MP when administering the test, reduce the usage of high-demand PPE, and offer a comfortable environment for the person administering the test.
Source: Panel Built Inc.
Share: