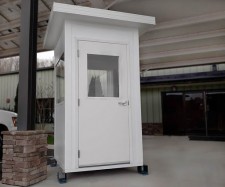 ATLANTA, March 20, 2019 (Newswire.com) - Panel Built, Inc., a modular construction company with over 20 years of experience in the industry, is offering a way to deliver modular solutions even faster. Panel Built is introducing all new, in-stock units for a select line of products, making their lead times even shorter.
Panel Built's current in-stock products as of 3/20/2019 consist of one Quick Ship model guard booth with 4 feet by 4 feet. Constructed from Panel Built's 3-inch-thick wall panels, the unit consists of a two-sided steel skinned wall panel with a polystyrene core. With windows on three sides and a picture window door on the other, the building provides the attendant inside with a 360-degree field of vision. 
Additionally, Panel Built has a 5 feet by 10 feet steel bus shelter that is ready to ship. This heavy-duty shelter is designed to withstand practically any environment with its welded steel frame and tinted, tempered windows. It comes with a 130-mph wind load and a 25 psf snow load rating, making it compatible for both coastal and frigid climates.
With the high demand for Panel Built's modular structures, the new In-Stock line provides an option for the customer base that needs space solutions as quickly as possible. Since Panel Builts units are fully fabricated, they can simply be off-loaded from the truck at the job site, anchored into place, hooked up to a power source (when needed), and it is ready to go. These units offer the absolute quickest and most convenient modular guard shack and bus shelter solutions on the market today.  
Source: Panel Built
Share: