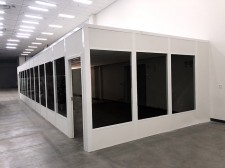 BLUE RIDGE, Ga., January 23, 2020 (Newswire.com) - On January 15, the Georgia Manufacturing Alliance toured the Panel Built, Inc. manufacturing facility in Blue Ridge, GA. The Georgia Manufacturing Alliance (GMA) is the fastest-growing community of industry professionals in the state. The Panel Built, Inc. (PBI) plant tour began with networking and discussion about the manufacturing that takes place in Blue Ridge. After the welcome, the group moved into a safety briefing by Michelle Murray. The tour was led by Operation's Manager Lee Baenninger and was assisted by General Manager Dave Arnold. The tour was able to sit in on the installers work on putting together windows. Next, they were able to watch the extrusion process which includes the gluing of the gypsum panel to the Styrofoam. The glue mixture that they use is determined by the geographical temperature of where the product is being shipped and is color-coded. The one that the tour saw was green for mild temperatures. The tour then moved to shipping & receiving to discuss the manner in which the product is shipped out (KD- Knockdown versus PA Pre-Assembled) and received in. The tour ended at the final PA department where they were able to see the finished product.
In 2008 GMA was founded by Jason Moss who envisioned a network that would support Georgia's manufacturing community. The Georgia Manufacturing Alliance now has six chapters across the state that are facilitated by volunteer chapter directors. The GMA staff and Chapter Directors work together to identify quality manufacturers, coordinate plant tours, and provide educational workshops in their regions. 
Panel Built General Manager Dave Arnold noted,
"Hosting the Georgia Manufacturing Alliance group is always a privilege. Besides being able to show off our facilities it is an incredible opportunity to network with potential customers and vendors from Georgia. I'm looking forward to the next time."
Panel Built was founded in 1995 by brothers Pat and Mike Kiernan and began with the construction of pre-manufactured buildings. All of the multiple product lines are produced on-site, in four state-of-the-art manufacturing facilities. Panel Built, Inc. offers "A Better Way to Create Space" for all building projects. Panel Built offers a complete line of custom modular offices, mezzanines, security booths, pre-assembled exterior buildings, and cleanrooms. For superior quality, dependable service, and innovative solutions, Panel Built is the best choice. 
Source: Panel Built
Share: